About Us
Serving the greater Seattle-Tacoma metro area for over 30 years.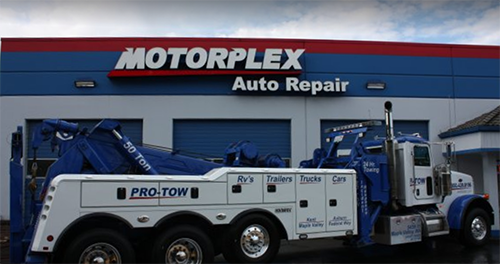 Meet the Motorplex, Pro-Tow and Pro-Enviro Family
Our group of companies consists of three divisions:
Pro-Tow
,
Motorplex
Auto
and
Heavy Duty
and
Pro-Enviro
. We offer automotive repair, heavy duty truck repair, mobile roadside repair, light duty to heavy duty towing and semi truck accident recovery, as well as motor vehicle fluid spill response. Our emergency services are available 24/7/365. We also offer long distant transport, load transfer and cargo salvage, and short-term vehicle and cargo storage.
Motorplex offers diesel engine, heavy duty truck, RV, and fleet repairs.
Motorplex started by offering light car and truck repairs and service but has long expanded to include heavy duty vehicle repairs and maintenance. We know that when a truck in your fleet breaks down, it can compromise your company's bottom line. The trained, certified and experienced heavy duty technicians at Motorplex will ensure your medium and heavy duty vehicles are repaired properly and efficiently so they can get back on the road.
Our heavy duty mechanical services include:
Preventative maintenance and inspections.
Diagnosis and computer fault repairs.
Engine repairs and services.
Transmissions, differentials, clutches and transfer cases.
Mobile roadside repair
We also offer comprehensive repair and maintenance services for RVs and diesel truck engines in both Auburn and Spokane, WA. Our technicians have an in-depth knowledge of these vehicles, can service all makes and models, and will ensure your vehicle is running at full capacity as soon as possible.
Motorplex also offers roadside heavy duty truck repairs. If your truck or RV is broken down on the road, we can bring the repair service to you. Alternatively, if you need a tow to the shop, Pro-Tow can help. Contact our 24-hour towing service.
When we are serving a client, we see it like we are helping a friend. When you call for repairs or towing services, our goal is to make you feel like you're calling a friend in the business. On site or in the shop, we will do everything we can to meet your needs and make your day better.
Have questions for us about our company? Call or text 253-245-5454 today!
Are you interesting in joining the Motorplex or Pro-Tow family? Please follow the link to find out more about careers with us.
Learn More
Pro-Tow 24 Hr Towing, On-Site Truck Repair, Cargo & Load Services, 24 Hr Emergency Spill Containment. Tow Truck Recovery. Auburn, Maple Valley, and Spokane WA. Serving the Seattle Tacoma Metro areas.
Pro-Tow