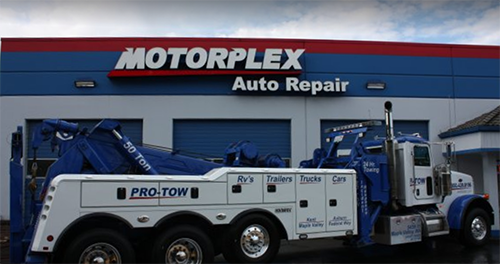 Our History
"Tomorrow's auto repair and towing solution, today!"
In June 1989, Keith Lewis founded Lewis Tech Automotive, working out of his Dad's garage to fix cars and trucks for family and friends. After graduating from Central Washington University in 1993, Keith founded Motorplex, offering light-duty vehicle repair in Maple Valley, Washington. In 1998, Pro-Tow was added to the company, offering automotive and heavy-duty towing services to Maple Valley, expanding to the Auburn area in 2000, and to Spokane in 2020.
Since 2000, the company has grown to employ approximately 25 teammates spread out among all our departments and services. All companies have expanded to serve the greater Seattle-Tacoma metro area and we also provide transport services nationwide.
Are you interesting in joining the Motorplex or Pro-Tow family? Please follow the link to find out more about careers with us.
Learn More
Pro-Tow 24 Hr Towing, On-Site Truck Repair, Cargo & Load Services, 24 Hr Emergency Spill Containment. Tow Truck Recovery. Auburn, Maple Valley, and Spokane WA. Serving the Seattle Tacoma Metro areas.
Pro-Tow